The Yorkshire terrier is a small dog breed of terrier type, developed in the 19th century in the historical area of Yorkshire, England.  The breed is bold and active. They are brave for such a small breed. They are, however, also quite loyal and affectionate. Yorkshire terrier puppies are especially loving and cuddly with their owners in their first 2–3 years.  Yorkies are very adventurous, will chase anything that resembles a rodent, and are known to be prolific climbers.These puppy names are not only cool, but they're hip. If you want your dog to be a trend setter, try one of these names.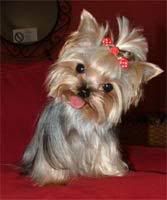 This Yorkie dog name list will change often so check back to see the latest and greatest puppy name ideas.
Sniffer

Abby
Ashley
Bailey
Baxter
Bentley

Chyna

Caesar
Candy
Coco
Daisy
Gizmo

Tinkle
Keeki
Lolly
Missy
Panny
Precious
Tiki
Many more Yorkie dog names on the way!!